उपेन्द्र यादवले थाले उपनिर्वाचनको तयारी
इमरान खानविरुद्ध गैर जमानती वारेन्ट जारी
च्याउले पनि गर्छन् मानिसले झैँ कुराकानी, दिमागको विकासमा लगाउँछन् पूरा जोड
मन्त्रिपरिषद् पुनर्गठनको तयारीमा प्रधानमन्त्री
एमाले बाहिरिएपछि कांग्रेस, जसपा, एकीकृत समाजवादी, लोसपा, नागरिक उन्मुक्ति सरकारमा जाने .......... प्रचण्ड नेतृत्वको सरकारमा हाल माओवादी र जनमत पार्टी मात्रै छन् । कांगेस, एकीकृत समाजवादी, जसपा, लोसपा, नागरिक उन्मुक्ति पार्टी सरकारमा जाने तयारीमा छन् । ........ अब हुने मन्त्रिपरिषद् विस्तारमार्फत जनता समाजवादी पार्टी, नागरिक उन्मुक्ति पार्टी र लोसपा सरकारमा जान तयार देखिएका हुन् । राष्ट्रिय स्वतन्त्र पार्टी भने अझै 'पर्ख र हेर'को नीतिमा छ । ........ जसपाका नेताका अनुसार आठदलीय गठबन्धनमा जसपालाई तीन मन्त्रालय दिने सहमति भएको छ । 'यसअघि हाम्रो मूल बटमलाइन नै उपराष्ट्रपति पद र तीन मन्त्रालय पाउनुपर्छ भन्ने थियो,' ती नेताले भने, 'तर, त्यसमा सहमति हुन सकेको थिएन । अहिले दुवै मागमा लगभग सहमति भइसकेको छ । त्यसकारण, सरकारमा जाने वातावरण बनेको हो ।' ....... गणतन्त्र, संघीयता र व्यवस्थाविरोधी दलहरू बाहिरिएका छन् । परिस्थिति फरक बनेको छ । त्यसैले हाम्रो मागको सुनिश्चितता भयो भने हामी सरकारमा जान सक्छौँ ।' ....... 'हामी त पहिलेदेखि चुनावअघिको पुरानै गठबन्धन थियौँ,' उनले भने, 'यसमा माओवादी फर्कियो, जसपा, जनमत र नागरिक उन्मुक्ति पार्टी थपिए । अब हुने पदीय भागबन्डा र मन्त्रिपरिषद् विस्तार सबैमा हाम्रो हिस्सेदारी रहन्छ ।' बालुवाटार स्रोतका अनुसार नागरिक उन्मुक्ति र लोसपा दुवै दललाई एक–एक मन्त्रालय दिने तयारी छ ।
.
Boy, Boris Nemtsov was the real deal. No wonder the Kremlin had him killed pic.twitter.com/Zpe7HeVR6m

— Paul Massaro (@apmassaro3) February 28, 2023
finally getting cold emails from VCs again. bear market over?

— nis.eth (@Iiterature) February 28, 2023
How to grow your startups revenue by $100m in a single month…

1. Launch referral program
2. Start a podcast
3. Improve support
4. Improve conversion rates
5. Repurpose content
6. Implement dark mode
7. Reduce churn
8. Close a $100m+ enterprise deal

It's literally that simple.

— Andrew Gazdecki (@agazdecki) February 28, 2023
Rep. Omar prepping to host her tele-town hall at 6pm CT 📲

You can sign-up to join our phone conversation here: https://t.co/CJyDj7Zk5j

The audio will also be available on Twitter spaces. pic.twitter.com/fZyX1Y21W4

— Rep. Ilhan Omar (@Ilhan) February 28, 2023
Well done, NBC. This story features only pro-Russian voices only, fails to mention that 800,000 Russians moved there illegally, journalists violated law of Ukraine, by traveling to Crimea through Russia. Such a disgrace.https://t.co/TLlLpyUsWH

— Nika Melkozerova (@NikaMelkozerova) February 28, 2023
A view from Crimea, the Russian-annexed territory Ukraine is hoping to seize back
NBC News spoke to residents during a visit this week to the peninsula that could soon be back in the center of the conflict between Moscow and Kyiv. ........ "This is our land," she said Monday. "We will all put on uniforms and will go to the border to defend ourselves."Her comments echoed those of most people NBC News spoke to in Crimea this week. While the government of President Vladimir Putin has cracked down on free speech everywhere, including in Crimea, the peninsula's majority Russian-speaking population was considered more pro-Moscow than in other parts of Ukraine when it was annexed. ....... Sevastopol — home to the Black Sea Fleet in Soviet times and the era of the Russian empire — might be the king on Putin's chess board: The Russian leader may be determined to protect it at any cost, but Kyiv may now fear any peace deal that left Russia's navy in the port would threaten its coastline for years to come. .......... NBC News traveled to Crimea by train from Moscow, across the Kerch Bridge that was blown up in a strategic and symbolic blow to Putin last fall. It is now fully restored but would likely be targeted again if the fight came to this peninsula. .......... he Kremlin's stance that Crimea represents a red line......... "All mothers are crying. Both Russian and Ukrainian mothers are crying," she said. "Why did it even start? Can't we all live in peace? Can't we just share this piece of bread in two halves?" .......... Zelenskyy has said the war that started here will end here, a prospect that — for residents of the peninsula and the rest of this war-torn region — may mean that an end to the bloodshed is a long way off.
.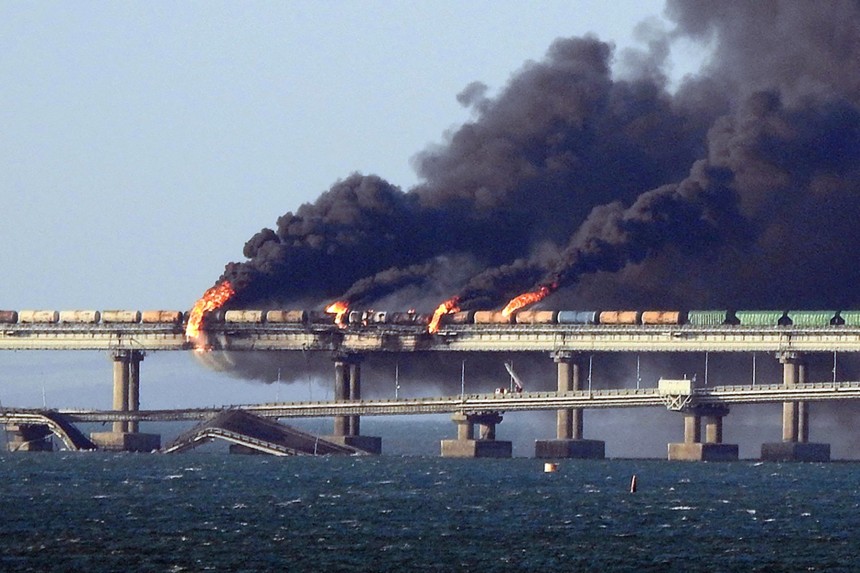 A huge portion of those sent by russia to die in Ukraine are ethnic minorities from its colonies pic.twitter.com/S4UaooRauj

— Paul Massaro (@apmassaro3) February 28, 2023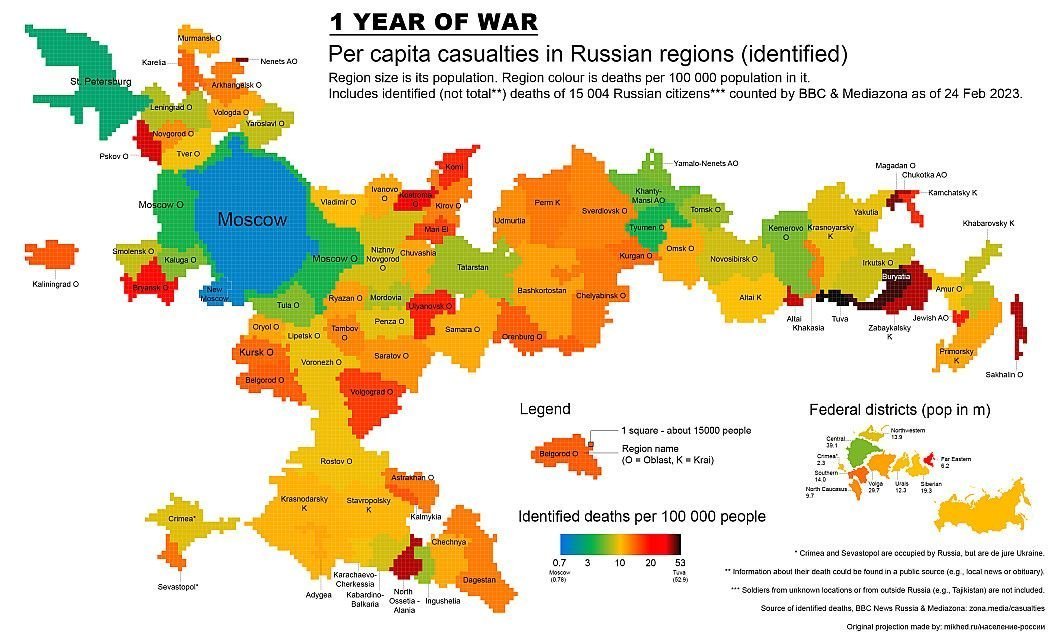 These are the first 4 Just Go Grind newsletter profiles

Who else should I write about next? pic.twitter.com/Eo392KVPB0

— Justin Gordon (@justingordon212) February 28, 2023
Why does a16z have so few investments in India? Would you be open to changing that for exceptional companies?

— Aadit Palicha (@aadit_palicha) February 28, 2023
I recently sold Ampush.

>10 years, I oversaw >$2 BILLION in social spend for clients like Uber, Peloton, Stitch Fix and DSC

Now I am sharing my learnings.

I'm hosting a webinar for only 25 agency owners/execs. 100% Free.

Comment "Learn" and RT and I'll dm you the form.

— Jesse Pujji (@jspujji) February 28, 2023
How does the amount the US is spending to help Ukraine compare to how much it spent on wars in the past?https://t.co/er28frQrdJ pic.twitter.com/9SNy7NUzrE

— Financial Times (@FinancialTimes) February 28, 2023
FOR YOUR CONSIDERATION: Best Cinematography

ALL QUIET ON THE WESTERN FRONT by James Friend#Oscars2023 #FYC #Oscars #AcademyAwards #AwardsSeason #Oscars95 #OscarNoms #OscarNominations2023 #Awards #Netflix #FilmTwitter pic.twitter.com/w8mlywew8l

— Matt Neglia (@NextBestPicture) February 2, 2023
Tesla will build a factory in the northern Mexican city of Monterrey, the electric-car maker's first in Latin Americahttps://t.co/YZqhkmwpNJ

— Financial Times (@FinancialTimes) March 1, 2023
Thank you to @UFT President Michael Mulgrew for supporting our effort to make Diwali a School Holiday in NYC Schools! Your commitment to diversity and inclusivity will benefit hundreds of thousands of Hindu, Sikh, Buddhist and Jain New Yorkers! #Diwali2023 #DiwaliHoliday pic.twitter.com/Q2vqLzH5E7

— Assemblywoman Jenifer Rajkumar (@JeniferRajkumar) March 1, 2023
Stewart has never simply accepted things without investigating it for himself. He rebelled against the Judaism of his youth, and he wrestled heavily with his view of this person they called Yeshua. Watch now to hear his incredible story!https://t.co/OYtKOkIjw3

— Jews for Jesus (@JewsforJesus) February 28, 2023
Breaking with EU, Hungary's leader backs China's peace proposal for Ukraine war https://t.co/rAiWD78pN8

— South China Morning Post (@SCMPNews) February 28, 2023
Breaking with EU, Hungary's leader backs China's peace proposal for Ukraine war
'We consider China's peace plan important, and we support it,' Prime Minister Viktor Orban says ....... Most European Union leaders have criticised the 12-point proposal, contending that it takes Russia's side ....... Orban warned that "the whole of Europe is slipping into the war, step by step". ....... "We need a ceasefire and the start of peace talks; Hungary calls for peace in all international forums; I see that most states support peace and Hungary cannot isolate itself from most of the world. ......... China's 12-point position paper, released on Friday to mark the first anniversary of Russia's invasion, calls for an immediate ceasefire, opposes the use of sanctions and nuclear weapons, and calls on all parties to stop "fanning the flames" of the war. ......... Orban, who is considered Beijing's closest ally in Europe, warned that with many other EU member nations now considering sending fighter jets to Ukraine, troops may follow. ........
EU leaders have criticised China's paper, saying that it takes Russia's side.
......... "China introduced its 'position paper' on a political settlement. It is not really a peace plan and mostly reiterates well-known Chinese positions – some of which we share while important ones are missing," EU foreign policy chief Josep Borrell wrote in a blog post on Sunday. ............ European Commission President Ursula von der Leyen said last week that the bloc would assess the paper, "but it is already clear that the key problem is that it does not really distinguish aggressor from the victim, putting the parties at an equal level". .......... China's proposal was also rejected by the United States and Nato. But Ukrainian President Volodymyr Zelensky cautiously welcomed it, reiterating a desire to meet with Chinese President Xi Jinping. .......... Russian spokesman Dmitry Peskov said that the proposal deserves "great attention", but added that Moscow saw "no preconditions at present" for the conflict to shift tack
and will continue its assault.
.
Everything feels amazing!#harvardmed pic.twitter.com/iGnU2DR1Aq

— Dr. Pratikshya Pandey (@Prtksha_pandey) February 28, 2023
Protecting solar panels from the sun 😱. Can anyone explain? pic.twitter.com/GMuGfpfW6z

— Harsh Goenka (@hvgoenka) February 28, 2023
The best deterrent to sin is a passion for God's glory.

— Trevor Sheatz (@TrevorSheatz) February 28, 2023
Buy physical copies of books you love. Do it now. pic.twitter.com/OSoUtosXwh

— Marc Andreessen (@pmarca) February 28, 2023
Today, I crossed $2M in online course sales.

And I've never run an advertisement.

Ask me anything.

There's plenty I don't know, but I can give you my perspective.

— Justin Welsh (@thejustinwelsh) February 28, 2023
Better: Freedom, flexibility, income.

Worse: When all of those things improve, you're left to struggle with purpose.

— Justin Welsh (@thejustinwelsh) February 28, 2023
Yes. I tried doing YouTube and a bunch of other things I wasn't particularly interested in. Waste of time.

Choose what you like doing (for me, it's writing) and stick to that.

— Justin Welsh (@thejustinwelsh) February 28, 2023
Showing up daily on social. Between LinkedIn, Twitter, and the organic reach from Google (which is due largely to a social following) I drive nearly 4,000 visitors per day. I only need 30 to purchase to have a $1.5M annual business.

— Justin Welsh (@thejustinwelsh) February 28, 2023
I gave myself 30 days to create it and spent about 3 hours per day (91 hours total). I had to trade off creating more content and what not.

But those 91 hours created $1.4M in revenue.

— Justin Welsh (@thejustinwelsh) February 28, 2023
Yes. Keep them relatively short and make them as evergreen as possible i.e. don't talk about things that are likely to change.

— Justin Welsh (@thejustinwelsh) February 28, 2023
I gave myself 30 days and recorded the videos. No iterations at all. I can't afford to when I charge $150.

— Justin Welsh (@thejustinwelsh) February 28, 2023
It's funny. I never really had a "breakthrough" moment.

It's just been slow, steady growth over 4 years.

Adding Twitter to the mix was definitely an accelerant.

— Justin Welsh (@thejustinwelsh) February 28, 2023
February 28, 2023
It's not as interesting as I had assumed.

— Justin Welsh (@thejustinwelsh) February 28, 2023